MercuryHub - Communications Management Software

Save Time, Earn Money, Get Connected!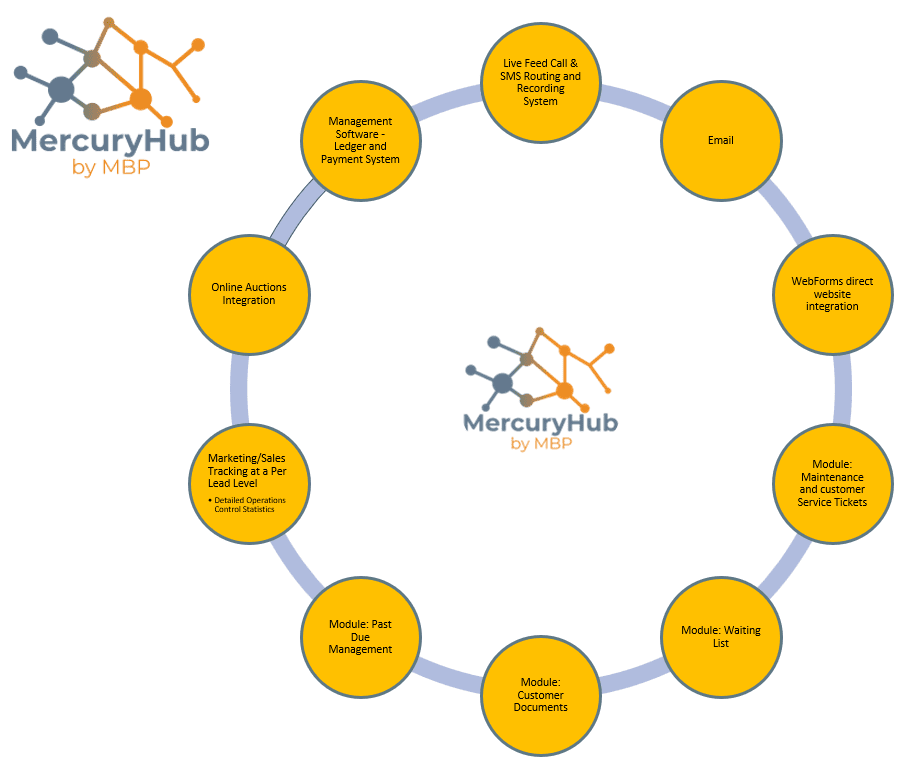 Features Include:
Inbound and Outbound Calls
Inbound and Outbound SMS
Templates for commonly used text messages – website links, answers to questions, rules and procedures, etc.
Call and SMS Tracking and Coding
Historical Calling and SMS Records
Call Recording and Full Featured Voicemail
Call Routing with Virtual Receptionist
Call and SMS Volume and Coding Statistics – How many missed calls or texts? How many calls or texts were never returned? How many opportunities missed?
Document Tracking – Rental Agreements, Unit Inventories, Auction Process Records and Images, Driver's License Pictures, Customer Selfies, etc.
Collections: One click calls and text messages, know which customer's need calls, no need to dial the number, it's already connected to the customers record – one click to dial
New Rentals: know who is on your wait list, know who wanted a unit but hasn't paid yet, know how many times you've reached out to them and who hasn't gotten a single call back, know where the sales are that need to be closed and paid
Integrated directly with Management Software to connect customer contact information, names and current balances with communications data
Document Server with tracking, comparison and timestamping of documents – integrated into WebForms for automatic reviews and one-click document retrieval 
Maintenance Tickets and Tracking – know what's broken, track what's needed to be done, managed your repairs efficiently, when is the last time you repaired that item – what was broken and how much did it cost?
Customer Service Tracking – log when an account needs a credit, who agreed to pay on a certain future date with reminders, who reported issues with their bill, who do you need to call about a complicated problem? 
Integrated time and attendance – Timesheets
MercuryHub Communications Platform
Voice, SMS, Webforms
MercuryHub brings all of your customer and vendor communications into a one-click, single point of access location. Having all of your communication history connected in one spot makes sure nothing slips through the cracks – all of your sales are closed and payments are processed.
Staff your office when the customers need you! Free yourself from the desk and be fully functional using mobile devices!
Streamline collections calls by knowing when and how often a customer has been contacted.

Who didn't get contacted?

Who called you and never got called back?

Did a call come in while you were dialing another customer?
How often has that happened and you never knew?

Are you using SMS with your customers?

They are trying to send you text messages, even when you can't receive them.
Are you renting via SMS?
Taking payments via SMS?
How much time can be saved by working with several people at once, in writing?
How many times do you wish you could show what was agreed to?
How many times are you calling someone that can't talk but they will respond to a text?
Can customers tell you to process their payments by just sending you a quick message with the last 4 digits of their account information?
How much time can be saved?

How much time do you spend moving back and forth between all of your software and devices?

Checking the landline, the mobile phone, the email, the website, the database software, etc.?
How long does it take you to respond to customers?
Have you ever called a customer back that needed a storage space and they had already rented from your competition? How much did that delay cost you?

Have you ever wondered how a customer found you?

Do you use tracking phone numbers to find out?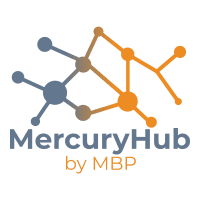 Complete Customer Contact Manager – every possible way for a customer to communicate with your business, all in one place with the MecuryHub Live Feed! Watch your efforts as the they happen. What calls were missed, who has messaged you, who wants to pay their bills, what work hasn't been completed – automatically, instantly updated list as the work happens!
How many people tried to do business with your company last week and you have no idea that they called or texted? How much business has simply passed you by?
Calls – Inbound and outbound routing and tracking and recording.

All calls that are made or received are shown in a list that has automated coding to highlight calls that need follow-up and that were missed.
Allows for 100% call back rates for every call that was placed, even calls that never rang!

SMS (text messaging) – Send and Receive Text Messages from the same number that your customers have been calling for years!

Send the same message to tens or hundreds of customers with a single click.
Use a list of prewritten message templates to speed up your texting. Select from the list and just click send.
Tracking for inbound receiving and outbound creation.

Email, sending and receiving, is built directly into the MercuryHub Feed! Customer's history shows all emails, website forms, SMS and calls – all in one place!

No more time wasted on checking emails or forgetting to check them – everything is in one place, one Live Feed.
No more delays in responding to your potential customers when an email goes unnoticed.

Forms from your website insertion into tracking system Website Integration.

Customer contacts from the website show up right in the live stream for your location.
All digital forms are directly connected to the customers profile. Signed contracts, images, other paperwork all flows directly into the Document Manager without the need for hours of downloading and uploading. Paperless operations are now possible and simple for your business.

Marketing Tracking – Mobile Search and All other sources are tracking with instant stats. Our website integration tool displays different phone numbers to customers depending on how they found our site. This allows us to directly connect website analytics to actual customers and track our marketing effectiveness, to the penny.
Walk-In or other sales sources tracking.

Insert leads and contacts with customers to create a 360 degree understanding record of your contact with each customer – current and potential!

Automated pipeline for sales follow-ups.

How long does it take you to call potential customers back?
How many times do you communicate with possible customers to assure that everyone that needs your services get them?
How do you know you didn't forget about a possible lead?
MercuryHub tracks 100% of all calls, sms, website communications, emails and any other communication sources that you may currently be using. All in one spot!
Don't miss a single opportunity!
MercuryHub will automatically respond to potential customers with a message 

Statistics with record coding to show what happened on each call

Who are your most and least active staff?
How many calls are you really getting and making?
Are collections calls really being made?
Are staff truly following up on every lead and every customer need?
Integrates with Collections lists and flags customers without calls made to them, tracks numbers of collections calls made by each staffer, alerts when staffers make no collections calls in a certain period, presents a list of customers with balances that allows for simple and easy outbound calls to be made

Listening to call recordings and voicemails in one platform.

What did that customer say? What was their address? When did they say they wanted to pay their bill?

Automated Upkeep and Maintenace Tracking, Followup Task List integration – manage the big and small maintenance and customer service needs on a site by site basis. Look back and what's been completed and what's still left To Do. Never lose track of needs or waste time researching.

MercuryHub will send your staff reminders until the work is completed and will let you know if the work is sitting undone for too long. No more having to keep up a list of active issues or having to remember to handle them!

Customer Contract and Document Management Tool – Know who's contracts are on file and what's missing at a glance. File auditing made easy!
Automated online storage auction integrations. Upload your pictures, inventories and other information directly from MercuryHub into StorageAuctions.com.
Identify high quality calls for training purposes, notations on recorded calls to point out good work on some and practices to avoid on others.
Company-wide Google Calendar integration for reminding staff to do the small functions that make a big impact.
Desktop and mobile capable
Many other features and functions